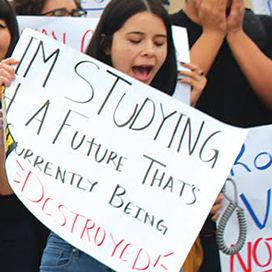 11th Grade, Watsonville High School
"We want people to understand, we don't expect this walk out to immediately change things. It's more about bringing awareness and educating others. We just want our voices to be heard."
How and when did you first learn about the climate crisis?
When I was in 5th grade because my teacher did a mini course on it. 
What compelled you to organize an action and/or begin speaking about the climate crisis?
It's important to me because the older generations allowed it to get to this point and they aren't doing as much as they should and as quickly as they should. The youth can only do so much and the climate crisis affects every single species. 
Had you participated in direct action (demonstrations, strikes, rallies, etc.) before engaging in the climate movement?
Yes, I was inspired by the March for Our Lives gun control protests.
How have your peers responded when you have asked them to participate in a demonstration with you?
It was a mixed reaction. Some were supportive. Others said it would be a waste of time and if we wanted to do something we should plan a beach cleanup. 
Have your family and friends been supportive? Why or why not?
Yes and no just because they don't understand it as much. 
Have teacher(s) and/or administrator(s) at your school been supportive of your organizing and leadership efforts? How, why, or why not?
Yes, most of my teachers were supportive. 
Please describe any worries you had while planning a past action or speech and/or worries you have about planning future actions.
Attendance, getting everything done on time, and getting it done right. 
What things might you do differently if you decided to organize another action or speak at another event?
Probably choose a team I can fully rely on which is hard because everyone is busy.
Which of the following might be helpful contributions from an adult advisory circle?Arranging time, place, stage, sound, etc. for after school rallies, etc., Creating flyers