Save Our Shores is comprised of a small team of passionate environmentalists who share a strong connection to our ocean and, in particular, our Monterey Bay National Marine Sanctuary. We thrive on enjoying all that the Sanctuary has to offer and protecting it for generations to come. We are scientists, ecologists, educators, conservationists, and members of the Monterey Bay community.
Erica Donnelly-Greenan – Executive Director
Erica grew up in the greater Chicago area and moved to Santa Cruz in 2004 to pursue an education in marine sciences, earning her Masters of Science in Marine Vertebrate Ecology from San Jose State University. She joined Save Our Shores as Executive Director in 2021.
Erica's background as a marine ecologist and her diverse experience in marine-related program management sets the tone for her passions and goals for Save Our Shores.
In an effort to reverse environmental injustices and encourage a healthy connection between land and sea, Erica focusses the organization's work through a lens that uplifts and amplifies whole communities.
With her small, but mighty team, Erica works to strengthen and diversify Save Our Shores' ongoing programs that keep our beaches, rivers and sloughs clean and healthy. The on the ground work paves the way for Save Our Shores efforts to effect policy change that makes a big difference now — and for generations to come.
Calah Pasley 
– 
Development and Communications Director
Calah grew up in Turlock, California before her family settled in the Silicon Valley for her teenage years. As a child, she and her siblings relished visits to Santa Cruz beaches and the Boardwalk. She knew, even then, that one day she would make Santa Cruz her home.
Calah attended the University of California, Santa Cruz where she earned a degree in Environmental Studies. Before joining Save Our Shores, Calah worked at the Land Trust of Santa Cruz County, where for more than a decade she helped foster the local community's connection to the land.
At Save Our Shores, Calah oversees individual and major gift fundraising, as well as capacity-building communications and events.
Favorite marine activities: beach lounging, building sandcastles with her daughter, tide pooling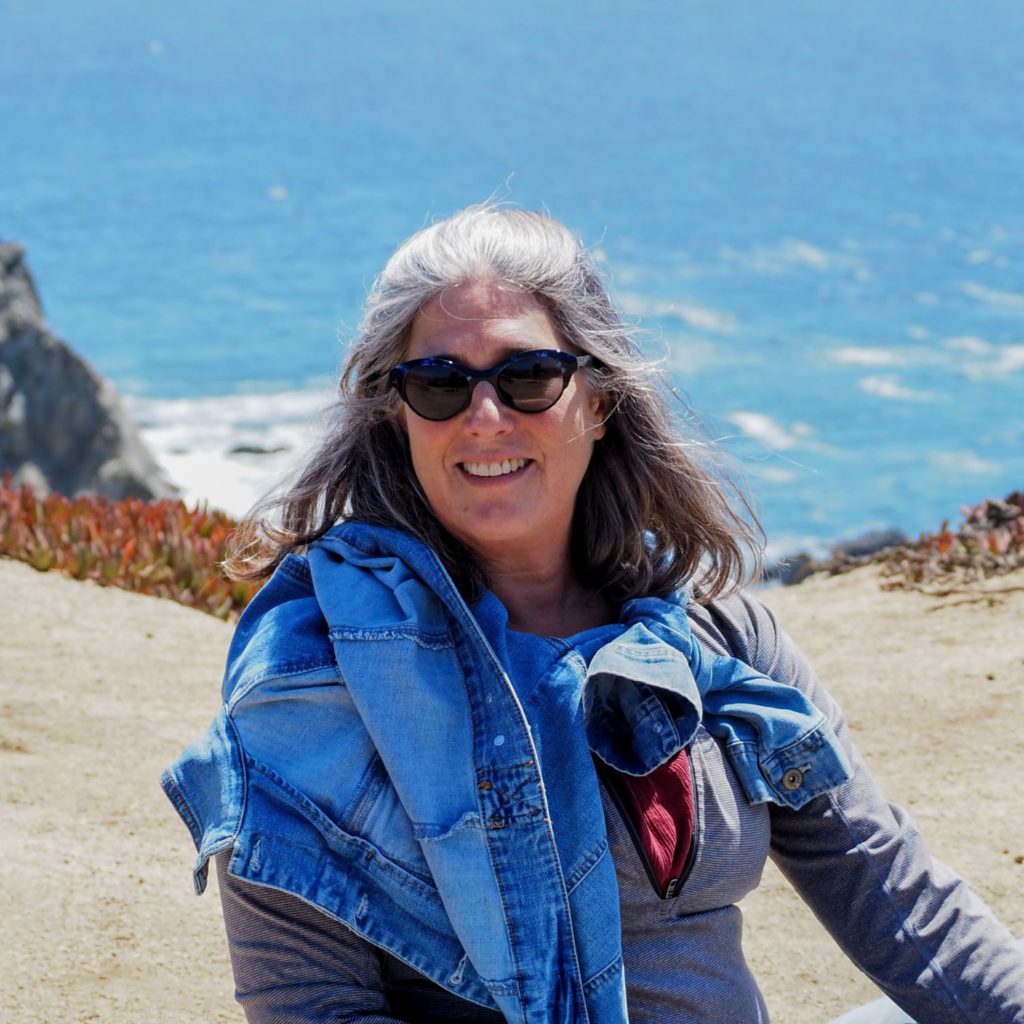 Leora Baumgarten 
– 
Finance and Nonprofit Operations Director
Leora grew up in Santa Cruz, swimming at Cowells Beach and roaming the UCSC campus. She graduated from UCSC in biology and moved to Chicago for graduate school. She lived in Chicago for 30 years, where she earned a PhD in physiology at the University of Chicago, completed a postdoctoral work at the University of Illinois Chicago,  raised a family, and worked as an entrepreneur and business owner. 
In 2017, she had the opportunity to participate in Points of Light Civic Accelerator for social entrepreneurship, which provided the foundation for work in the nonprofit sector. Recent work includes HR and operations consultant in both the private and non-profit sectors, including a biotech startup.
At Save Our Shores, Leora is responsible for day-to-day financial and business operations including accounting, contracts, grants, vendors, staff and insurance.
Favorite  activities: open water swimming, hiking, watercolor painting, and spending time with family and friends enjoying the great outdoors Santa Cruz has to offer.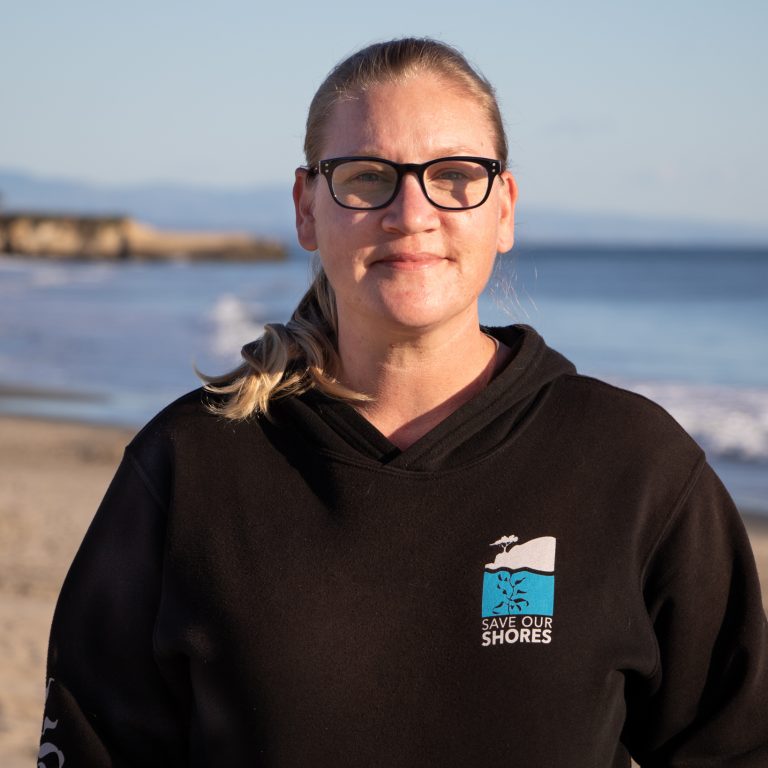 Krista Rogers – Program Manager
Krista is a Santa Cruz local who grew up in Capitola and attended the University of California, Santa Cruz where she studied marine biology. Before joining Save Our Shores she worked and volunteered in youth programs at the Seymour Marine Discovery Center, where she developed her passion for engaging youth in marine science and connecting people with the amazing ecosystems of the Monterey Bay National Marine Sanctuary.
At Save Our Shores, Krista previously served as our Education & Outreach Coordinator. As Program Manager, she manages the education, volunteer, and outreach programs, engaging the community in learning about and protecting their beloved Monterey Bay National Marine Sanctuary.
Favorite marine activities: tide pooling, snorkeling, and kayaking
Andrea Dempsey – Education Coordinator
Andrea grew up in Bucks County, Pennsylvania. Her most frequented beach with family and friends was Ocean City, New Jersey. Since childhood, Andrea has been intrigued by the ocean.
Andrea attended Kutztown University of Pennsylvania, and completed a degree in Marine Science with a minor in Professional Writing. While studying marine science in a landlocked state, Andrea was able to take field courses at Chincoteague Bay Field Station, which provided hands-on learning opportunities and experience.
Andrea fondly remembers learning about the Monterey Bay in college, and was stoked to move here in Summer of 2019 for an environmental educator position with Camp SEA Lab. Andrea worked with Camp SEA Lab, Kayak Connection, Web of Life Field School, and O'Neill Sea Odyssey, where she grew her communication and education Skills.
At Save Our Shores, Andrea is part of the programs team, focusing primarily on delivering engaging marine science curriculum in order to foster stewardship through knowledge and awareness in the K-12 community.
Favorite marine activities: tide pooling, swimming, kayaking, and sailing.
Peter Disney – Volunteer and Outreach Coordinator
Peter was born and raised all over the Bay Area, finally settling in Santa Cruz after receiving a B.A. in Critical Race and Ethnic Studies from UC Santa Cruz. His love of all things ocean was inspired and encouraged by his extended family of surfers and sailors, all of whom shared their stoke on the ocean with him. When not talking to volunteers at SOS, Peter can be found biking, climbing, or spending time reading in the sun. 
Favorite marine activities: tide pooling, snorkeling.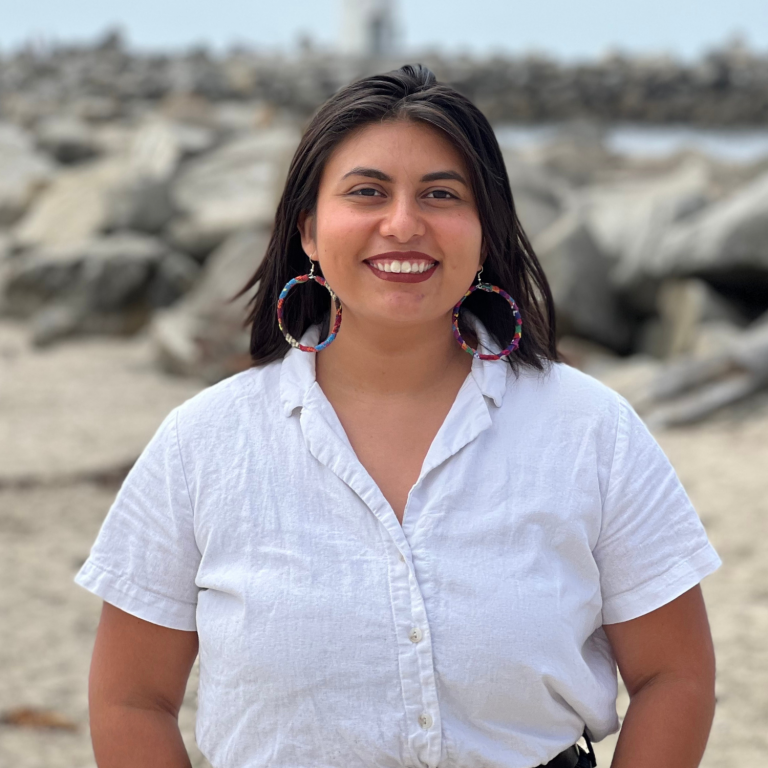 Gabriela Gonzalez-Puentes – Communications & Marketing Intern
Gabriela was born and raised in Watsonville, California, and attended Watsonville High School. After graduating, she attended San Francisco State University, where she earned her B.S. in Marketing with a minor in Latino/a Studies.
Gabriela and her family would often visit the beach, which made it one of her favorite places to be. She continues to visit whenever she gets the chance. One of her favorite beaches to visit is Sunset State Beach. In her spare time, she enjoys roller skating and finding new and exciting coffee shops to try.
At Save Our Shores, Gabriela is responsible for social media outreach, the Save Our shores blog posts, events planning, and has her hands in various fundraising efforts. 
Favorite marine activities: Observing seashells on walks with her mom.
Featured photo by Michael Langhans