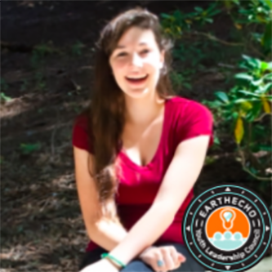 PCS Alum attending the University of Chicago
"I hoped that by taking action in my community, I was doing something to protect the people and places I loved. It was a way of taking the fear I felt and repurposing it into determination and persistence." 
How and when did you first learn about the climate crisis?
In Santa Cruz, environmental issues aren't just a feature on the nightly news—they're a big part of daily life. Growing up during a drought, seeing forest fires destroy lives and homes in California, and feeling the threat of sea rise and plastic pollution to coastal towns and economies like ours meant that environmental issues, and particularly climate change, were never not on my radar.

What compelled you to organize an action and/or begin speaking about the climate crisis?
I've always been a person with anxiety, and the idea that my family and home could be destroyed by a fire, tsunami, or other extreme event was terrifying, especially when I was young. By middle school, I couldn't stand to just be a passive, scared participant in those conversations. I hoped that by taking action in my community, I was doing something to protect the people and places I loved. It was a way of taking the fear I felt and repurposing it into determination and persistence. 
I began working around environmental issues at 14, when I started a local group to teach young people about ocean issues. I found myself writing curricula for elementary schoolers on plastic pollution, speaking on the role of young people in the environmental movement, and leading beach clean-ups. Although much of that early work focused on plastic pollution (perhaps because climate change felt overwhelmingly intangible to address), I soon realized I couldn't talk about ocean problems without being more involved with the climate issue, especially because plastics come from fossil fuels. As I realized how entwined the two issues are, I grew really passionate about climate change. I started working climate issues and climate justice into speaking and writing opportunities, and began collaborating with organizations and organizers focused on climate. 
Had you participated in direct action (demonstrations, strikes, rallies, etc.) before engaging in the climate movement?
Yes. I've been involved in demonstrations and rallies around gun violence in schools, gender justice, and labor organizing. I'm passionate about issues that reflect fundamental problems with the ways our societal and governmental systems are set-up, and I think that's true about both climate change and most modern social justice issues.
How have your peers responded when you have asked them to participate in a demonstration with you?
In high school, I was definitely the "political kid", and my peers didn't always participate in environmental events or efforts I organized, which could be frustrating—it always felt like caring a lot, even about really important things, wasn't cool. But when President Trump was elected, two friends and I organized a walk-out in which 40% of our high school participated. In that case, it was because we worked hard to show students why the issue at hand would impact them, their family, and their futures, and I think that's a rhetoric that also works very well with the climate issue. Now that I'm in college, I'm really lucky to have a supportive peer group that's always ready to join in a clean-up, come to a speech or march, and help spread the word on social media. In addition, other youth advocates I've met through environmental work have been some of my strongest allies, and that network means the world to me. 
Have your family and friends been supportive? Why or why not?
My family has always supported my environmental work by cheering me on, pitching in to clean up trash, driving me to speaking events and marches before I got my license, and believing in my ability to take on big problems and use my voice. I feel so lucky to have their support and know that I wouldn't be where I am without them. I also feel really lucky to have made so many friends through environmental organizing. Peers I've worked with at conferences or on youth boards have been some of my biggest supporters, and people whose work I'm proud to support. We uplift each other and work together, and that makes really big problems like climate change feel manageable. 
Have teacher(s) and/or administrator(s) at your school been supportive of your organizing and leadership efforts? How, why, or why not?
I've been really fortunate to have some very supportive teachers, especially in high school, but I think the biggest issue I've run up against is doubt from teachers and administrators about the ability of young people to make a meaningful impact. Finding adults who see me as a capable and smart organizer, instead of as an involved kid, has been essential.
Please describe any worries you had while planning a past action or speech and/or worries you have about planning future actions.
I worry that although I've been speaking about, organizing around, and consulting on environmental issues for five years now, adults won't see me as qualified because of my age, gender, or another reason. I also worry that whatever action I'm taking or speech I'm making won't be "enough"—that I haven't found the place yet in which I can most meaningfully contribute to the causes I care about. When I feel that way, I remind myself that we start small, and that if one person connects with a speech I made or essay I wrote and decides to take action, that's worth hours of work to me. 
What things might you do differently if you decided to organize another action or speak at another event?
I believe that recognizing one's privilege and making room for people whose identities have been historically excluded from environmentalism is not only important but essential. As a white, cisgender, largely privileged advocate, I and people like me need to continually recognize the ways in which our experience, although valid, does not reflect the impact of environmental racism or other systems of environmental injustice.
That's something I want to keep working on, because it's easy to center oneself. I've given speeches that focus on the ecosystem effects of plastic pollution or climate change without ever bringing up the human impacts environmental change will have, or that those impacts will disproportionately be borne by already marginalized groups–in the U.S., indigenous communities, low-income communities, and communities of color. 
In the future, I want to make sure that any action I'm involved with not only acknowledges the intersections of environmental change with social justice but also makes space for people more impacted than I to lead and be heard. When I find myself in a room full of people discussing an issue and notice that nobody personally impacted by the issue is present, I want to leverage my privilege to change that, and when that's not possible, to leave the space.
Which of the following might be helpful contributions from an adult advisory circle?
Using your voices to connect us with adults who otherwise may dismiss us on the basis of age—so contacting reporters, organizations, elected officials, etc. and voicing your belief in us and willingness to support our endeavors. Put pressure on other adults to empower the kids in their lives.