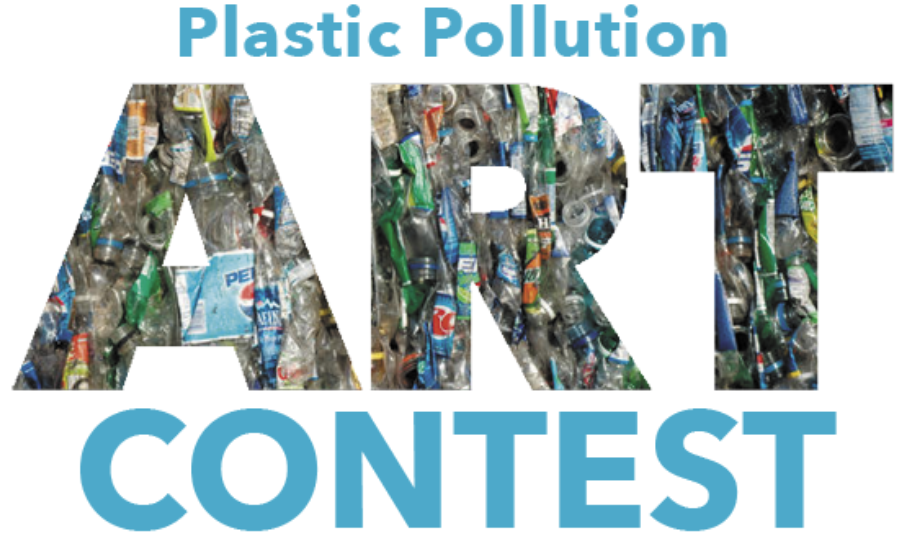 YOUR CREATIVITY CAN HELP STOP THE PLASTIC INDUSTRY FROM TRASHING OUR PLANET!
Save Our Shores invites you to help raise awareness about the need to protect our ocean from single-use plastic bottles by creating recycled art that highlights the effects of plastic pollution in our oceans. 
With one million plastic beverage bottles sold every minute, plastic bottles and bottle caps have earned their rank as the third and fourth most littered items worldwide. These plastics are breaking down in our oceans and making their way into our food webs, and into our own bodies. It is estimated that humans ingest about a credit card's worth of plastic every week! Additionally, the creation of these bottles is a huge contributor to global climate change, with 17 million barrels of oil being used every year to produce plastic water and soda bottles in the US alone.


(Click HERE to view an interactive timeline of how the Plastics Industry is trashing our planet)
The Plastic Pollution Art Contest is open to artists and ocean-lovers of all ages. 
About the Contest:
Each artist may enter one or more pieces of artwork by uploading images and/or videos to our Plastic Pollution Digital Gallery by 11:59 pm on September 15.
Digital gallery visitors are invited to 'like' their favorite entries.
A team of Save Our Shores representatives will vote to award 1st, 2nd, and 3rd place winners and honorable mentions.
The theme is recycled art that highlights

the effects of plastics in our oceans.

Artwork can be created using the medium of your choice but should include plastic beverage bottles and other single-use plastic as a primary component of the design.
Entry Fees:
The suggested fee for each entry is $5 for Save Our Shores Sanctuary Sea Star Members and $10 for non-members. (Sanctuary Sea Stars support Save Our Shores with monthly, recurring gifts of at least $10.) No one will be turned away for lack of funds.
The Reception, Videos, and Promotions:
Winning entries will be displayed during our Waves & Wildlife Photo Competition Celebration on October 1st from 6-8 pm (location TBA) and used to help promote our Single-Use Plastic Bottle Petition throughout Santa Cruz and Monterey Counties.
We will also produce a short video of the award-winning entries which will be promoted on our webpage, YouTube channel, Instagram, Facebook, and Twitter.
We will advertise the exhibit through social media to drive traffic to our website and the exhibit page.
Important Dates:
September 15, 2021 no later than 11:59 pm – Submission deadline. 
September 20, 2021 – Winners announced on website and through preferred form of contact.
October 1, 2021, 5 pm – Bring winning artworks to be displayed during the Waves & Wildlife Celebration (Location TBA)
October 1, 2021, 6-8 pm – Waves & Wildlife Celbration including the presentation of the Plastic Pollution Art Contest Awards
A few final things:
The artist by submitting their artwork gives permission to us to display the artwork on our website, YouTube, Facebook, and other social media and will allow the use of your artwork for promotional purposes for the Single-Use Plastic Bottle Petition.
By submitting your artwork and having it on display during our Waves & Wildlife Celebration and at Single-Use Plastic Bottle Petition signing sites, you agree to hold Save Our Shores harmless and to indemnify Save Our Shores against all claims resulting from losses.
More questions?
Contact gail@saveourshores.org with any additional questions.