When:
June 10, 2020 @ 6:00 pm – 7:00 pm
2020-06-10T18:00:00-07:00
2020-06-10T19:00:00-07:00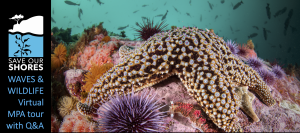 Join us for a virtual tour of some of the Monterey Bay Regions marine protected areas and a Q&A about why they are so vital to our future!
Each year Save Our Shores hosts Waves & Wildlife, an amateur photo and video contest, to highlight the beauty and biodiversity of our region's spectacular marine protected areas while raising awareness about the role they play in safeguarding and regenerating our ocean and climate.
This event will showcase some of our past entries and winners to offer a virtual tour of these spectacular places followed by a dialogue with Jon Anderson (@scubajonjake) and Nathan Coy (@california_currents_photo) who took first and second place in our 2019 Waves & Wildlife Competition.
Save Our Shores' Oceans Week will promote the ongoing ocean awareness and advocacy that's crucial—especially during times of crisis. Most events have sliding scale ($0-$25) ticket/suggested donation to help support our 42-year-strong organization's continuing work during these challenging times. Our revenues have been hard hit by the coronavirus situation and donations of any size to help support our ongoing work during these challenging times would be greatly appreciated. That said, we understand that many are facing financial hardship now and want everyone to feel welcome attending whether they are able to donate at this time or not.
I understand that by RSVPing to this event I am subscribing to the Save Our Shores email list and can unsubscribe anytime.
PHOTO CREDIT: Jon Anderson, Waves & Wildlife 2019, 1st Place