When:
May 15, 2019 – June 15, 2019
all-day
2019-05-15T00:00:00-07:00
2019-06-16T00:00:00-07:00
Where:
Save Our Shroes
345 Lake Ave Suite A
Santa Cruz, CA 95062
USA

Contact:
Nia Carrico-Diener
831-462-5660 x2
JOIN SANTA CRUZ COUNTY'S FIRST EVER BUTT BLITZ!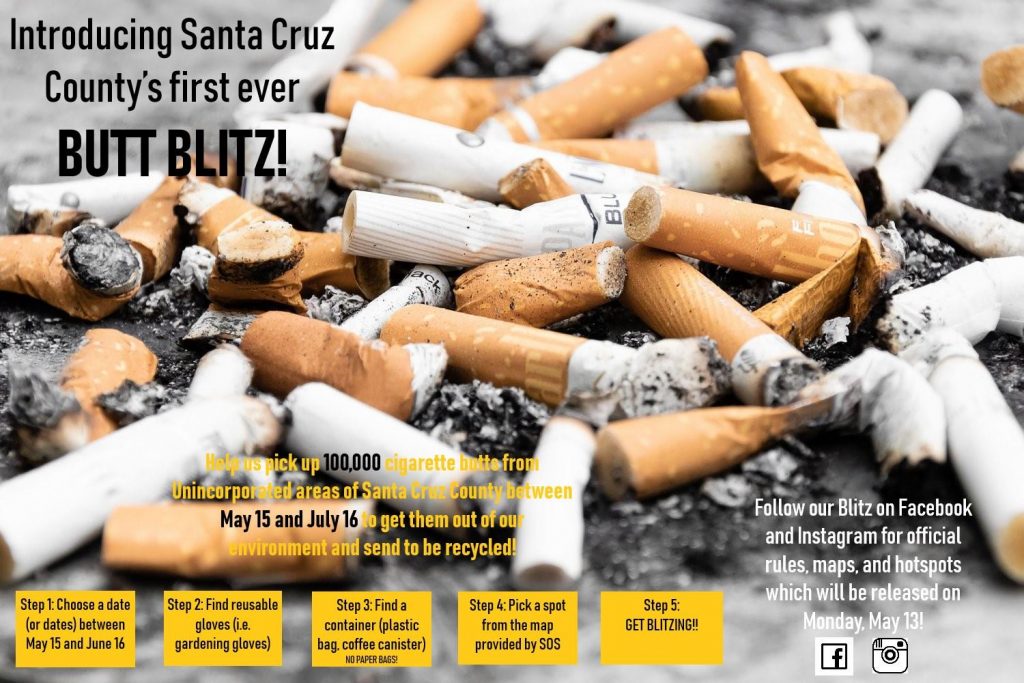 We are posing a community wide challenge, because we need your help in our fight against cigarette butt waste!
WHY?
Cigarette butts win the dubious distinction of being the most littered item year after year. This litter is of specific concern because the filters contained in these butts are made from plastic, which means they can take 100 years or more to degrade, they are infused with toxic substances, and they are easily and readily ingested by land-dwelling, coastal-dwelling and ocean dwelling birds and mammals. Additionally, in the marine environment the plastic in the filter can adsorb additional toxins. When ingested by fish, they enter the human food chain and then become a health concern/threat to humans.
WHAT TO DO:
Starting on May 15, Save Our Shores and Santa Cruz County are asking you to help us reach our goal of collecting 100,000 littered cigarette butts from our environment! This effort will be focused only in the Unincorporated areas of Santa Cruz County.
Follow the steps on this flyer:
Step 1. Pick a date or dates to conduct your cleanup
Step 2. Find or purchase reusable gloves
Step 3. Look around your house for a good smell-proof container (think plastic bag, old coffee carton, etc…but avoid paper bags.)
Step 4. Choose a location. This may be any location within Santa Cruz County, EXCEPT for the incorporated areas, marked as red on the map below (City of Santa Cruz, City of Capitola, City of Watsonville, City of Scotts Valley). View our maps to see the boundaries of the Blitz. Find a hotspot like a beach, parking lot, hospital, park bench, or popular overlook- you'll reach your goal of 1,000 in no time!
Step 5. Get to Blitzing! Once you are finished collecting, or the Blitz has ended (June 16,) you can return your collected butts to Nia at the Save Our Shores office located in the Santa Cruz Harbor at 345 Lake Ave, Ste. A.* Please label your container or bag with your name and how many people collected with you, and the location and date the butts were collected.
*If you are unable to return your butts due to travel or time restriction, please contact Nia at nia@saveourshores.org.
If you are interested in participating in Santa Cruz County's Butt Blitz, or have any questions, please email our Volunteer and Outreach Coordinator nia@saveourshores.org
HAPPY BLITZING, SANTA CRUZ!